As social media platforms continue to cement themselves as a key marketing space, having a strong Twitter presence has become increasingly important for both individuals and businesses.
From networking to marketing, staying up-to-date with the latest trends, and engaging with your audience, a well-crafted Twitter account can make a big impact.
But how do you set up a Twitter account that stands out and delivers results?
In this comprehensive guide on how to set up a Twitter account, we will walk you through every step of the process, ensuring that you can harness the full potential of this powerful platform in 2023.
Short Summary
Understand the importance of Twitter in 2023 and learn how to set up a successful Twitter account.

Customize your profile, connect with relevant users, utilize features effectively & craft engaging tweets for maximum reach.

Follow best practices & use additional tools to enhance strategy while navigating common challenges professionally.
Understanding the Importance of Twitter in 2023
As one of the leading social media platforms, Twitter has become an essential tool for networking, marketing, and staying informed of current trends.
With 450 million active monthly users, having a Twitter account can be a crucial part of a business strategy.
It is then very important to understand and adhere to social media etiquette.
This will not only enhance your online presence but also help you connect with your target audience and industry influencers more effectively.
Determining if Twitter is suitable for your business requires considering factors such as your target audience, the type of content you want to share, and the goals you want to achieve on social media sites.
Keep in mind that any content you post on your Twitter account, whether through the website or the app, may be viewed and stored by other users.
This makes it even more important to craft a thoughtful, engaging, and professional online presence.
Setting Up Your Twitter Account: A Step-by-Step Guide
Creating a Twitter account is not only free but also a cost-effective way to connect with your customer base and promote your business or personal brand.
To begin, you'll need to register for a new Twitter account by providing your name, email address, and password.
You can choose between a personal Twitter account or a business Twitter account depending on your intentions for the account.
Once your account is created, you can customize your profile by adding important details about yourself or your brand through the Settings button on your Twitter page.
Crafting a compelling Twitter bio is essential for attracting the right audience and establishing your online presence.
Here are some tips to help you create an effective bio.
Provide a brief overview of who you are or what your business offers

Explain why others should follow your account

Include a URL to drive traffic to your website or portfolio

Follow other relevant users and influencers in your industry to grow your network

Be genuine and authentic in your interactions to build meaningful connections and foster positive relationships on the platform.
Protecting your tweets is an option on Twitter, allowing you to control who can view your content.
When your account is private, only your followers can see your tweets, and your content will not appear in public search results.
To activate this feature, you can go to your account settings and choose the "Protect Your Tweets" option, whether on the web or through the iOS or Android app.
Keep in mind that when switching from a public to a private Twitter account, previously posted tweets will only be visible to approved followers.
It's essential to carefully consider the implications of privacy settings on your account's reach and potential growth.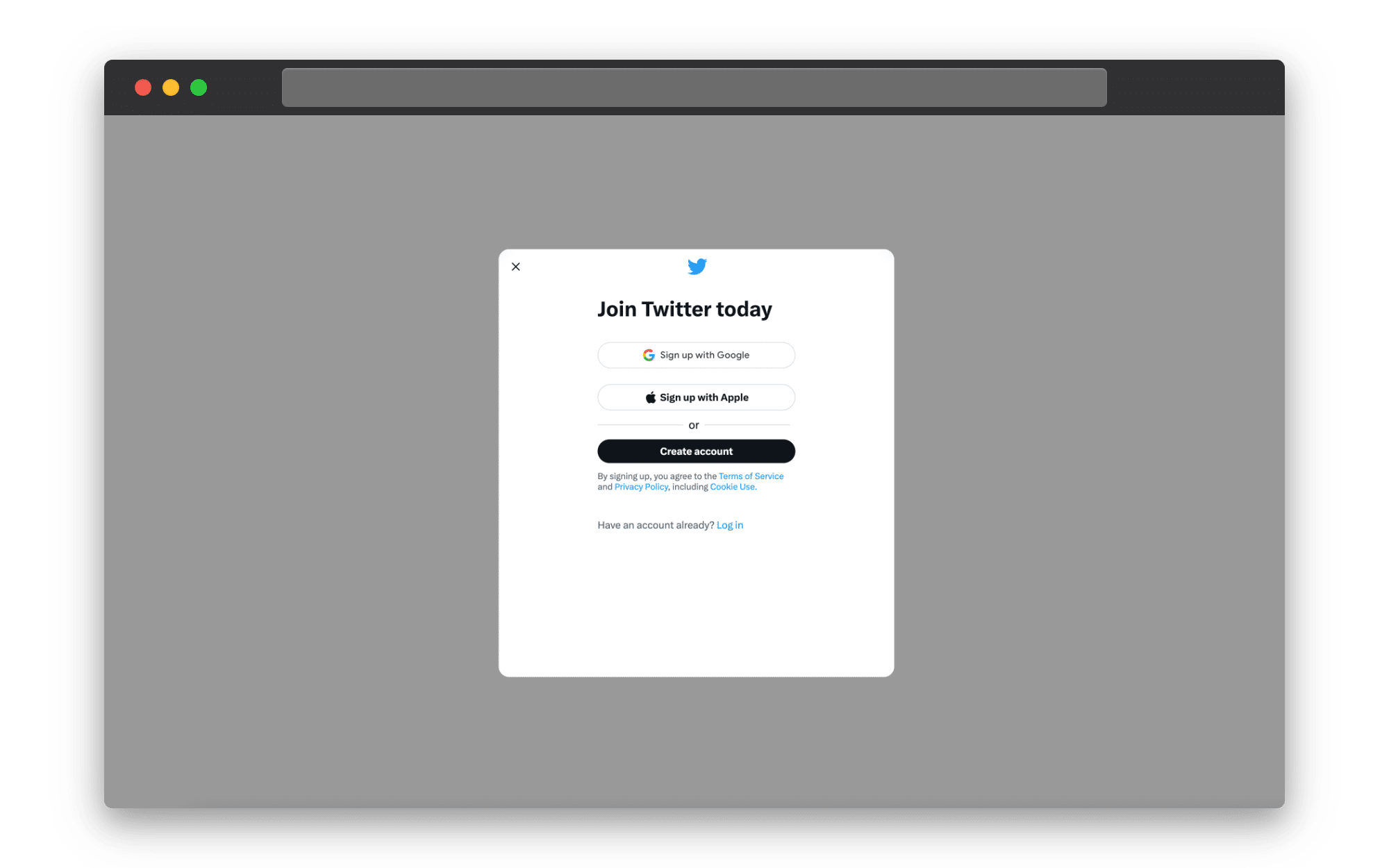 Registering for a New Twitter Account
Registering for a new Twitter account is a simple process. Here are the steps:
Provide your name, email address, and password.

If you're creating a Twitter account for your business or blog, it's a good idea to use your brand name in the 'name' field.

Once you've entered the necessary information, you'll receive a verification email containing a link to confirm your new account.

Clicking on the link will verify your email address, completing the registration process.
Choosing a suitable Twitter username is crucial for establishing your online presence. Here are some tips to keep in mind:
Your username should be easily associated with your personal brand or business.

Keep it short and simple – aim for no longer than 15 characters.

To check the availability of a username, you can use a free service like Namechk.
Remember, your username plays a significant role in how others perceive and interact with your account, so choose wisely.
Customizing Your Twitter Profile
Now that your Twitter account is set up, it's time to customize your profile to make it more appealing to your audience.
Start by selecting a Twitter profile picture that best represents you or your brand.
If you're using Twitter as a professional, consider a high-quality portrait of yourself.
For businesses, using your company logo or an image that represents your brand would be appropriate.
Your Twitter bio is another essential aspect of your profile.
It should include relevant information about yourself or your business that accurately reflects your personal or business brand. Here are some tips for creating an effective Twitter bio:
Include a brief description of what you do or what your business is about.

Highlight any achievements or notable experiences.

Use keywords that are relevant to your industry or niche.

Add your website URL to drive traffic to your site and showcase your work.

Consider the implications of using your real name on Twitter and how it may affect your online presence and interactions with others.
Connecting with Relevant Twitter Users
One of the keys to success on Twitter is connecting with relevant users in your industry or area of interest. Here are some strategies to help you do that:
Search for keywords related to your interests or industry to find users worth following.

Engage with these users through likes, retweets, replies, and direct messages to expand your network and increase your account's visibility.
To evaluate the effectiveness of your engagement with pertinent users, monitor metrics such as:
followers

likes

retweets

replies
However, engaging followers isn't as simple as just posting content.
It's also important to reply to your community in the replies section of your Tweets, whilst still upholding your brand identity.
Utilizing Twitter Features Effectively
Hashtags, trending topics, and Twitter analytics are all features that can help you maximize your account's potential.
Hashtags are words or phrases preceded by the hash symbol (#), or octothorpe, that help users identify a specific topic in their tweet.
Using relevant hashtags will help your tweets can appear in search results when users search for the associated keyword or phrase.
Trending topics are subjects receiving increased attention on Twitter at a given time.
Participating in discussions around trending topics related to your industry or interests can help boost your account's visibility and engagement.
Additionally, measuring Twitter analytics is vital for evaluating the performance and reach of your posts.
By understanding how your content resonates with your audience, you can refine your strategy and deliver more impactful tweets.
Crafting Engaging Tweets
Whilst being one of the more text-based social media networks, each tweet has a 280 character limit.
Creating concise yet engaging tweets within this limit will help you resonate with your target audience and encourage interaction.
Here are some strategies to consider :
Incorporate visual elements, such as images, GIFs, videos, and polls, to attract attention and make your content more shareable.

Engage with customers' tweets by responding to their comments, retweeting their content, or liking their posts.

Join trending topics and conversations to increase your visibility and reach a wider audience.

Utilize relevant hashtags to make your tweets more discoverable and increase engagement.
Twitter reported that tweets including hashtags gain 16% more engagement.
Calls-to-action (CTAs) are another effective way to encourage engagement with your tweets.
Examples of CTAs include asking followers to retweet, comment, or like a post, or to visit a link or website.
By crafting tweets that offer valuable information, elicit emotion, and inspire action, you can create a lasting impact on your audience.
Retweets and Replies
Retweets and replies play a crucial role in amplifying your message, engaging with your audience, and building relationships on Twitter.
A retweet is the act of sharing someone else's tweet with your followers, while a reply is a direct response to another user's tweet.
Retweeting can help you share content from other users that is relevant to your audience, and replying can initiate conversations and answer questions.
Effectively utilizing retweets and replies can help you engage with your audience, foster relationships, and expand your reach.
Interacting with others on the platform not only helps to promote your content but also demonstrates your willingness to engage and contribute to the conversation.
Remember, genuine and authentic interactions are the foundation for building a strong, engaged following on Twitter.
Direct Messages (DMs)
Direct messages (DMs) are a private form of communication between two Twitter accounts, not visible to any other parties unless they have access to the account.
To send a DM, click the envelope icon located in the upper right corner of your Twitter homepage, enter the recipient's username, and compose your message.
To receive a DM, you must be following the sender, and you will be notified when they send you a message.
Managing DMs can be done through the "Message Requests" feature, which allows you to accept or reject messages from users you aren't following.
Additionally, you can delete messages, block users, and report messages that violate Twitter's rules.
Use DMs to establish connections, answer questions, and engage with your audience in a more personal and private setting.
Twitter Best Practices for Success
To truly succeed on Twitter, it's essential to follow some best practices for your Twitter profile.
Regular account maintenance, such as updating your profile picture, bio, and Twitter website URL, helps keep your account fresh and relevant.
Interacting with others on the platform, whether through likes, retweets, replies, or DMs, fosters relationships and encourages engagement.
Avoid common mistakes, such as over posting, sharing irrelevant content, or using too many hashtags.
Instead, focus on providing valuable information, engaging with your audience, and staying true to your personal or business brand.
By following these best practices, you can optimize your Twitter strategy and achieve long-lasting success on the platform.
Navigating Common Twitter Challenges
As with any social media platform, Twitter can present challenges that users need to navigate.
Dealing with negative comments, managing multiple accounts, and maintaining privacy are just a few examples.
To address negative comments, respond professionally and try to resolve the issue.
If the comment is offensive or violates Twitter's guidelines, consider reporting the user.
Managing multiple personal accounts and two Twitter accounts can be tricky, but by using email aliases and separate browsers or apps, you can effectively manage and maintain separate accounts.
If you decide to make your account private, be aware that your tweets will only be visible to your followers, and your content will not appear in public search results.
Consider the implications of privacy settings on your account's reach and growth before making any changes.
Enhancing Your Twitter Strategy with Additional Tools
Optimizing your Twitter strategy can be made even easier with the help of additional tools and resources. Some tools that can assist with scheduling, analytics, social listening, and hashtag monitoring are:
These tools can save you time and energy, allowing you to see improvements in your overall strategy in just a few minutes.
Incorporating these tools into your Twitter strategy means you can:
Streamline your workflow

Gain valuable insights

Monitor your performance

Ultimately, achieve better results
Embrace the power of these additional tools and resources, including a useful Twitter app, to enhance your Twitter strategy and make the most of this influential platform by deciding to join Twitter.
Summary
In conclusion, setting up and optimizing a Twitter account is a crucial aspect of success in today's digital landscape.
If you understand the platform's relevance, navigate challenges, and utilize additional tools effectively, you can build an impactful presence on Twitter.
With consistent effort, genuine engagement, and adherence to best practices, you can harness the full potential of this powerful platform and achieve lasting success in 2023.
Frequently Asked Questions
How Do I Create a Fresh Twitter account?
Creating a fresh Twitter account is easy and straightforward: go to the Twitter website, click the 'Sign Up' button, enter the necessary information such as your name, phone number or email address and date of birth, and you'll be ready to start tweeting!
Once you have created your account, you can start customizing it to your liking.
You can choose a profile picture, a header image, and a bio to introduce yourself to your followers.
You can also select the topics you are interested in, so Twitter can suggest relevant content.
Why Can't I Make a New Twitter Account?
You may not be able to make a new Twitter account due to either age requirements or temporary restrictions imposed by Twitter.
Make sure you meet the requirements before attempting to create your account.
How Can I Make My Twitter Account Private?
To make your Twitter account private, go to your security settings and select the option to protect your tweets.
For a private Twitter account, all you have to do is head to your settings and turn on the protection for your tweets. This will ensure that only approved followers can view your content.
Can I Create Multiple Twitter Accounts With The Same Email Address?
It is possible to create multiple Twitter accounts with the same email address.
You just have to use email aliases or a different username associated with the same email address.
This is a great way to manage a personal account and a business Twitter account without having to create multiple email addresses.
It also allows you to keep track of all your accounts in one place.
What Are Some Effective Ways To Engage With Relevant Users On Twitter?
Engaging with relevant users on Twitter can be easily accomplished by developing relationships through likes, retweets, replies, and direct messages.
Additionally, joining conversations in their space helps to build familiarity and trust.
If you enjoyed this article and want to make content for your Twitter account then sign up for a FREE Pictory account and get started today!
Check out our blog on The Best Social Media Posting Guide 2023: The Ultimate Tips and Tricks to find out how to skyrocket your Twitter account.