A Step-by-Step Guide to Accessing Storyblocks in Pictory
When you're starting to create videos in Pictory, the platform's powerful AI automatically assigns visuals to your content.
However, there's no need to curb your imagination.
You can use Pictory's professional video editor with your own uploaded media or access Storyblocks through Pictory.
1. Choose the type of text or video you want to edit in Pictory and click 'Proceed.'
2. Next, choose a template and a suitable aspect ratio and click 'Continue.' Don't worry, it's perfectly ok to switch templates later.
3. Watch while Pictory makes the magic happen and creates your storyboard, broken down into scenes, and including stock videos and captions.
4. Review the video that has been matched with individual scenes by clicking on these scenes to ensure you have the best possible clip for your AI video.
5. Once you click on a scene, another interface opens up to let you change the selected video.
To replace the stock footage chosen by Pictory's AI, you simply click on 'visuals' in the column on the left side of your screen and start browsing the options.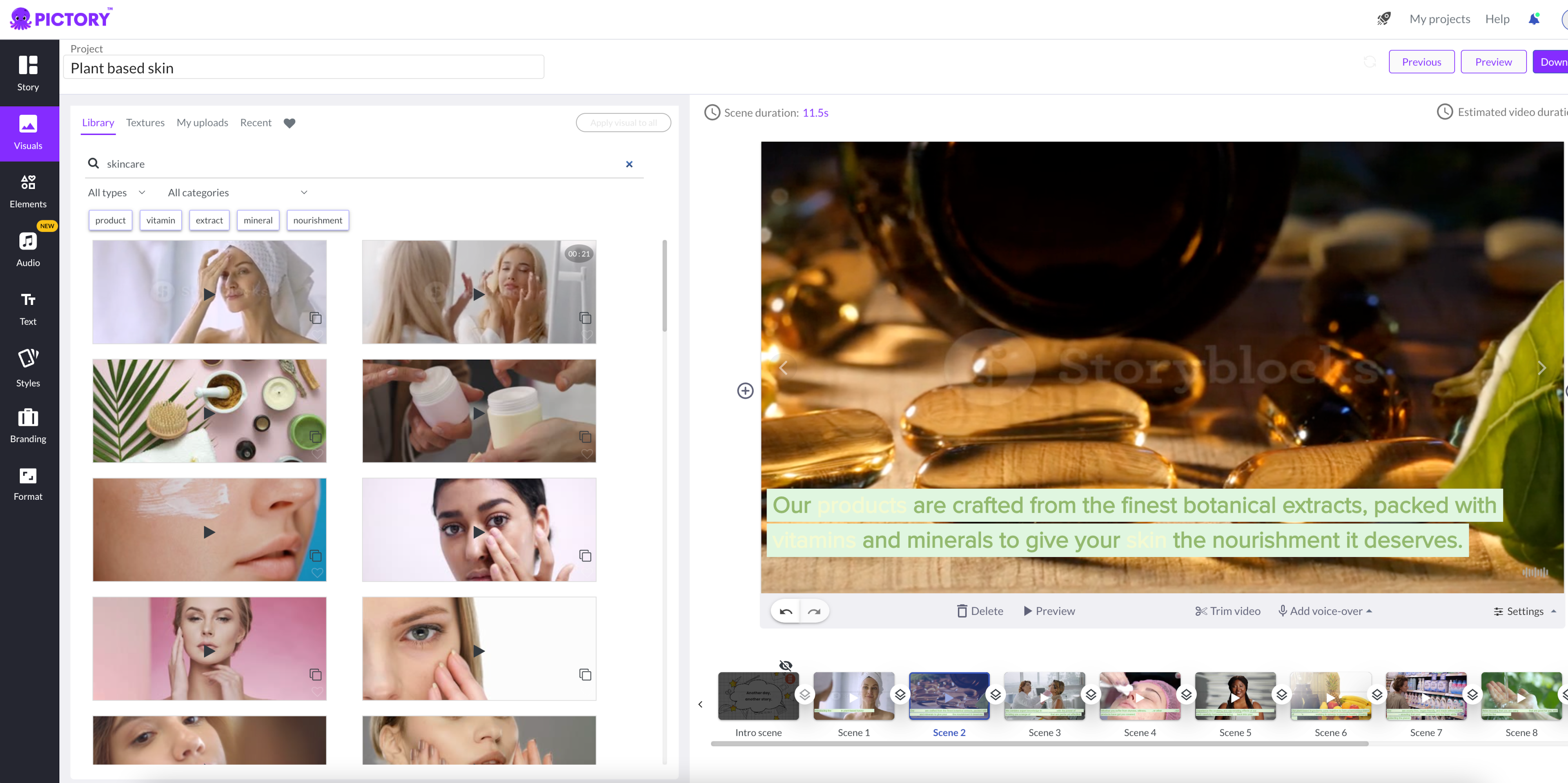 Navigating the Storyblocks Library in Pictory
Simply browsing all AI video options in the Storyblocks library of Pictory might become overwhelming and time-consuming.
That's why this online video editor comes complete with keyword suggestions to help you focus your search.
Follow these steps to make the process more efficient.
1. Choose the most suitable keyword or use your own from your text.
2. Open the search bar in the 'visuals' menu and enter your keyword.
3. Stand by for a few seconds while Pictory selects the most suitable videos from Storyblocks for you
4. Struggling to choose? No need to worry, you can preview potential content before making a decision.
5. Using video editing software has never before been this easy and quick, whether you're a brand-new video maker or are simply trying a new platform.
Creating Engaging Videos with Stock Footage
Stock images can help bridge the gap between the footage you have available on your own and the footage it would take to create videos that truly make a difference to your audience.
Here's how to use them for the greatest impact:
Use AI video suggestions to get you started, but review each scene to ensure you choose the video that truly illustrates your content and brings your text to life.
The more closely these keywords describe your purpose, the better the search results will match your purpose.
Don't rush your image search and selection.
Using an AI video generator already streamlines the video editing process, allowing you to invest the time where it matters most.
Examples of Videos Enhanced with Storyblocks Footage
Want to see what your business could achieve by combining Pictory and Storyblocks?
Take a look at the Pictory customer showcase of YouTube videos:
Starting with Lorna Findlay's weight loss tips and Ross Wagland's video on the benefits of black coffee, 'health and wellness' is a popular subject.
Anthony Garcia used our tools to enhance a video covering redundancy in writing.
But you can also use stock footage for tourism videos to showcase destinations and attract new customers.
Enhancing your content with stock video can help convey a mood, emphasize key messages, or set the scene for some of your own videos.
The possibilities are endless.
An Overview of Pictory's Video Editing Tools
With the basics of accessing Storyblock's massive library through Pictory covered, it's time to take a closer look at the individual video editing features this video maker offers.
1. Converting Text to Video: this editing tool allows users to upload scripts, a blog post, or other forms of text as the basis for their video.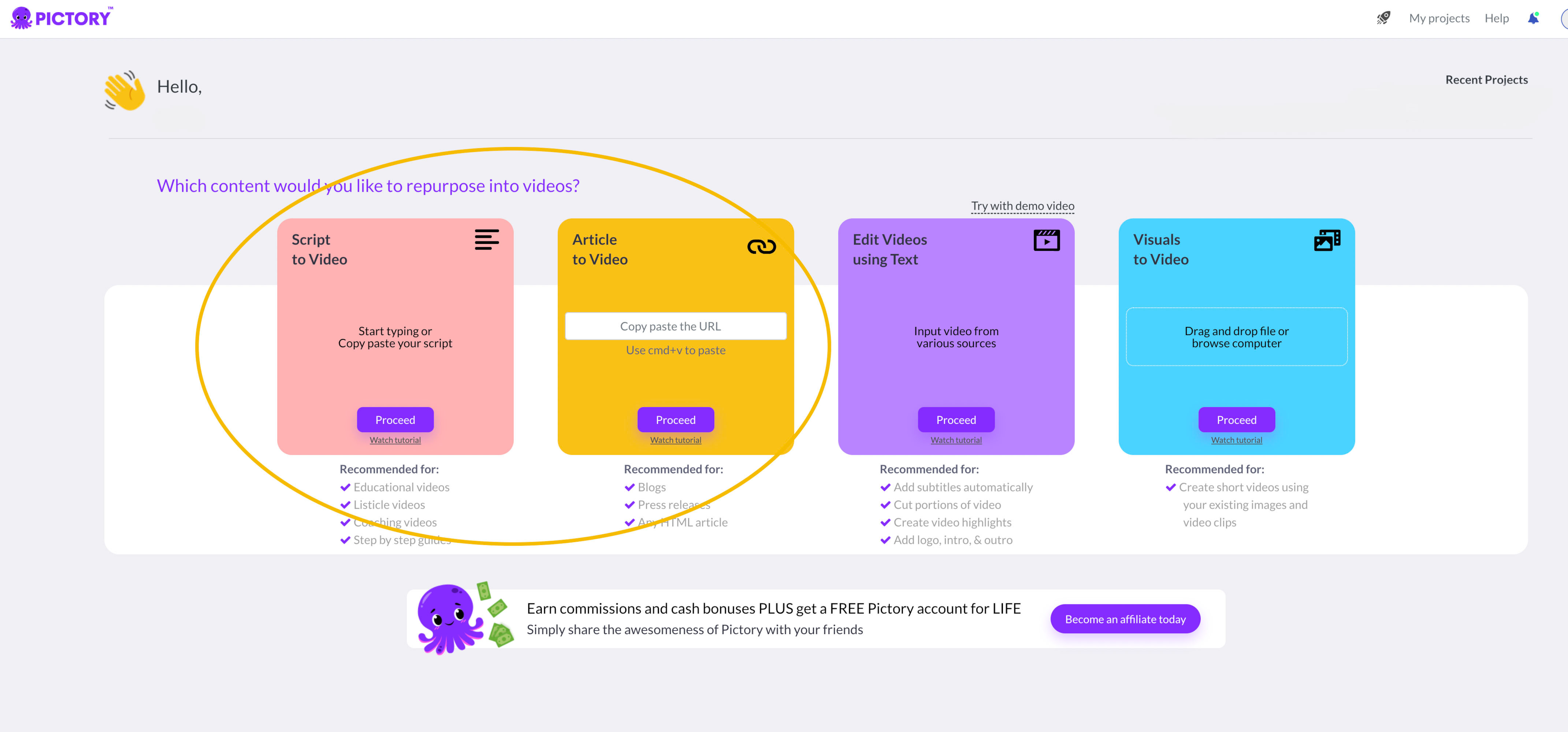 2. To create videos, Pictory converts the text into scenes within minutes, adding AI video from its stock library.
3. Converting Images to Video: Pictory video editing software can also start with images or videos as opposed to text.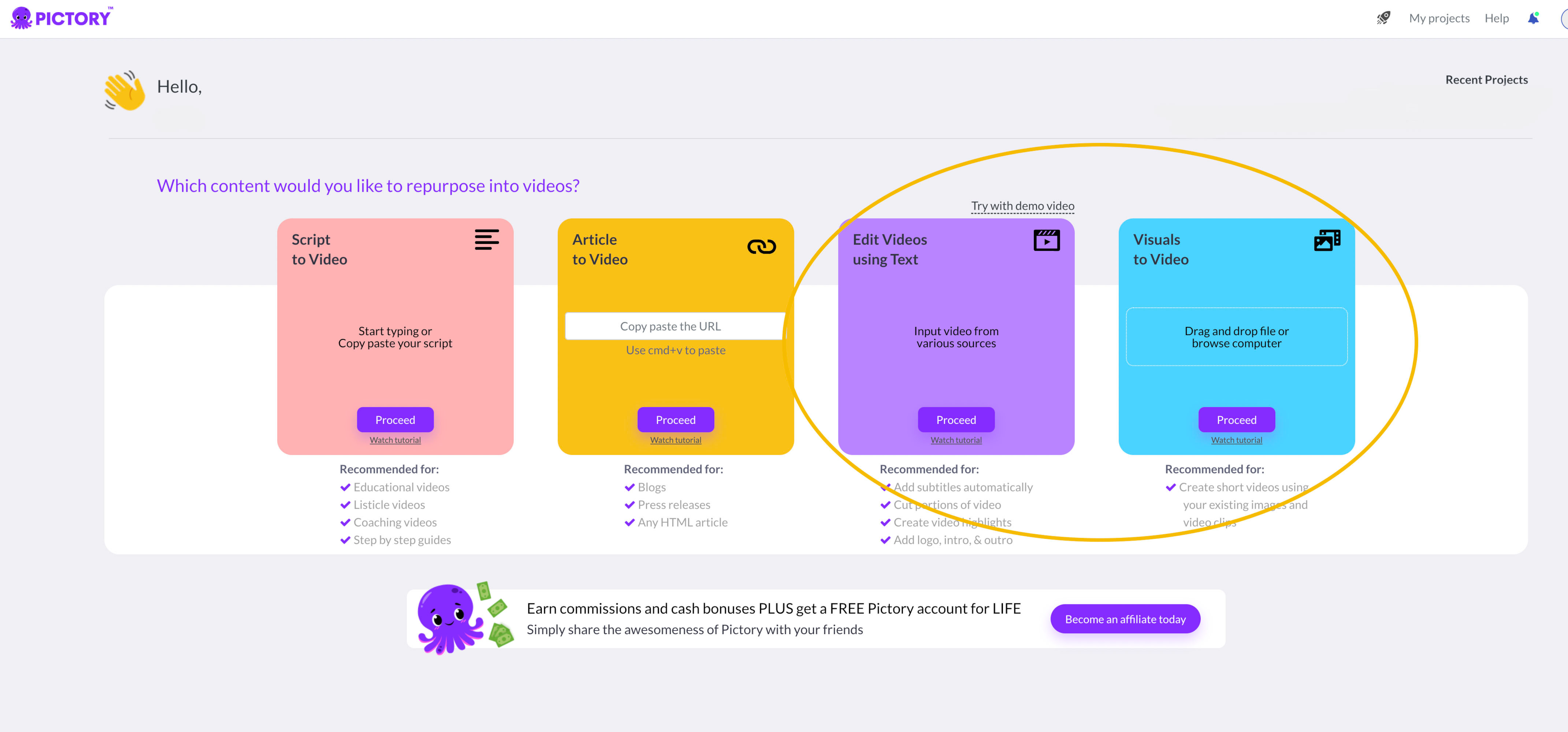 4. Once again, all users need to do is select the images they want to use and let Pictory's video maker create a fully-fledged storyboard.
5. Adding Audio Tracks: if you thought that Pictory only offers access to an unlimited video library, you would be mistaken.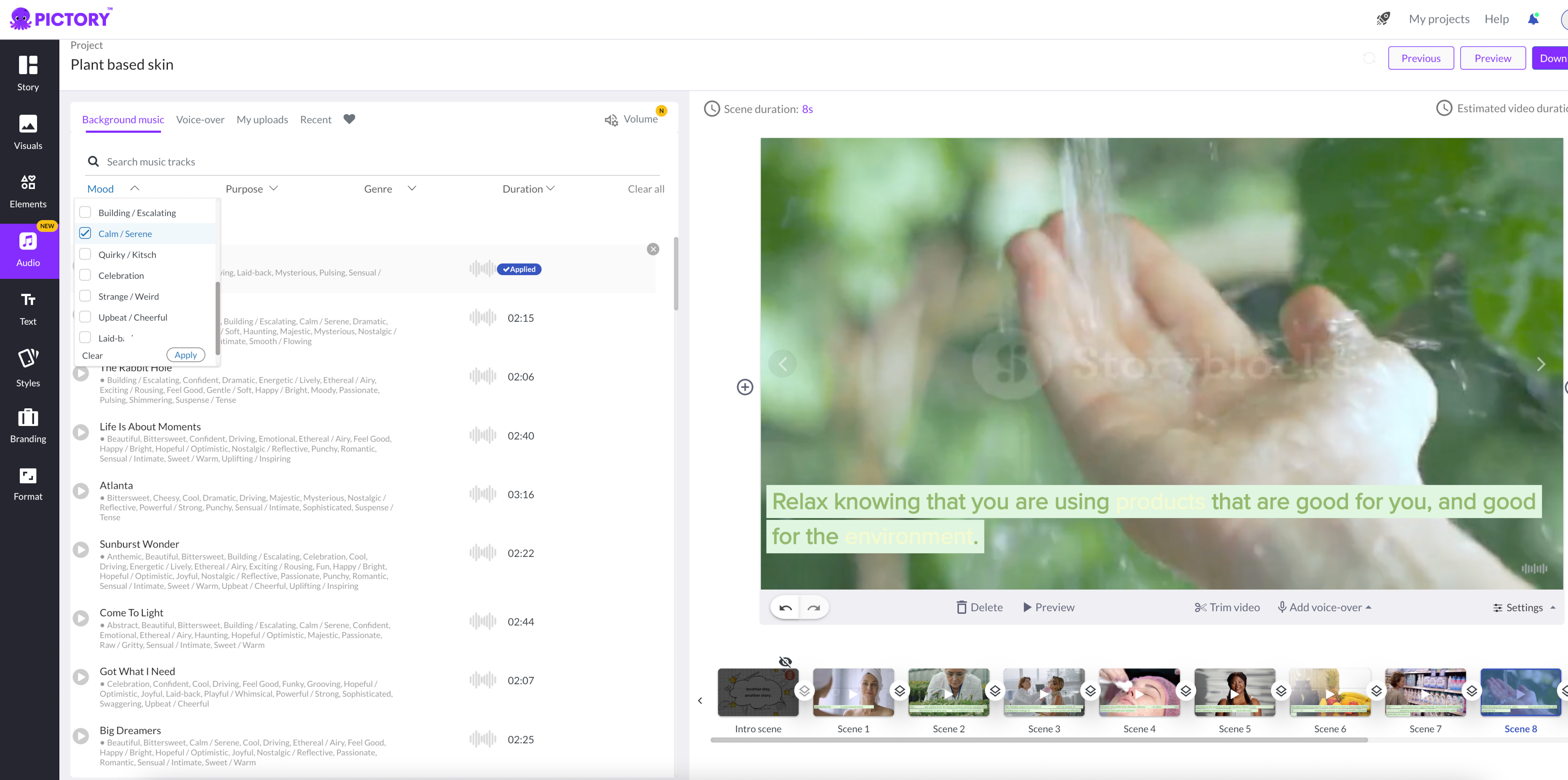 6. The video editing software also offers royalty-free audio, helping creators make more engaging videos.
7. Adding Storyblocks Footage: each of those AI video options allows users to change the video automatically selected by Pictory AI.
8. Searching Storyblocks' vast library is best done with selected keywords to narrow results and avoid becoming overwhelmed by the volume of choices.
Advanced Editing Techniques with Pictory
Like many AI video generator tools, Pictory makes it easy to get started with video editing, while also offering access to a range of advanced editing features.
1. Choosing Aspect Ratios: different platforms require different video formats or aspect ratios.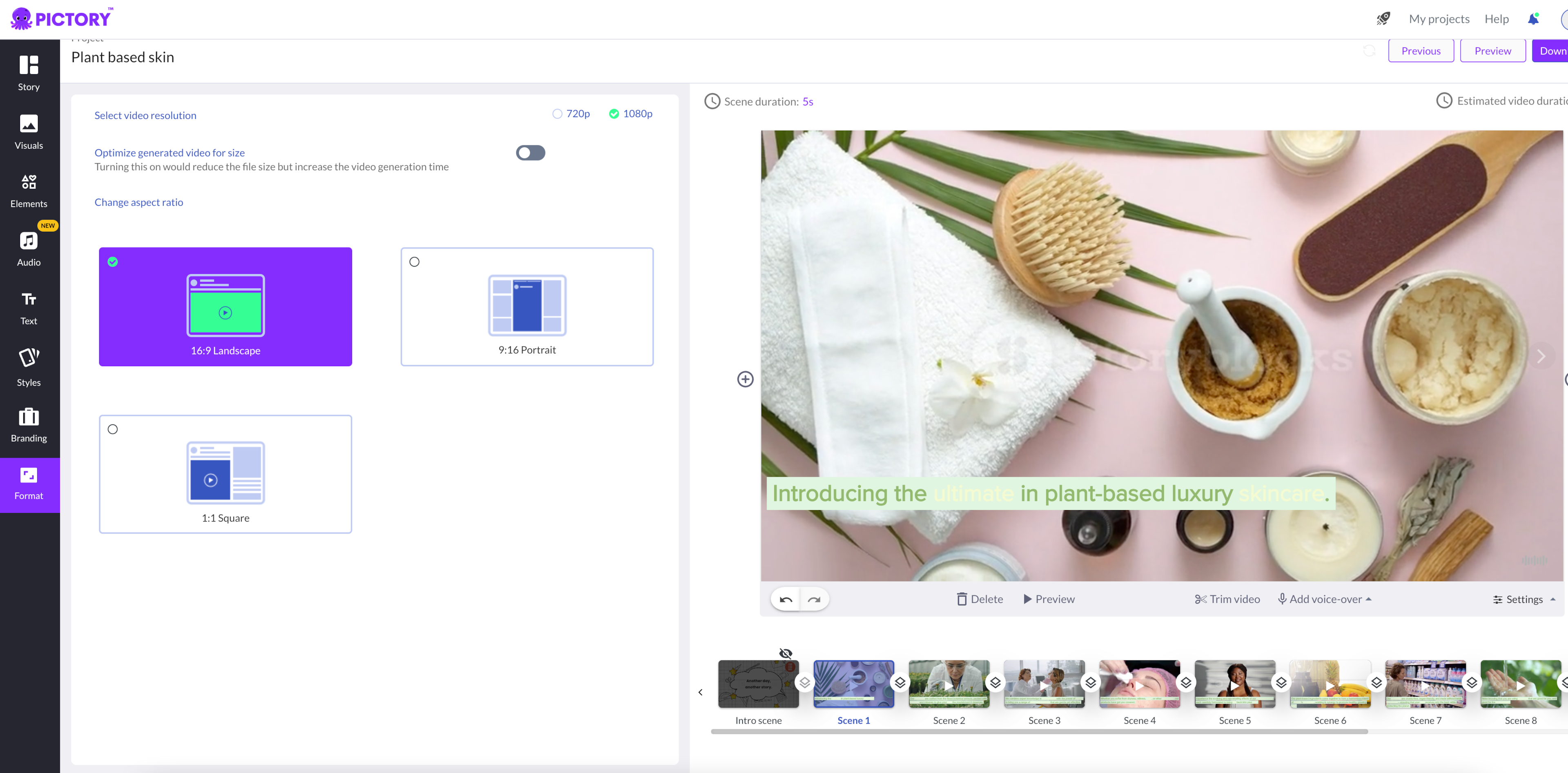 2. YouTube videos look best in a 16:9 landscape format, whereas mobile viewers tend to prefer a 9:16 portrait ratio.
3. Understanding your audience is the key to selecting the best format for a given video.
Read our article on Using Video Formats For Maximum Engagement to learn more!
4. Using and Auto-Syncing Voiceovers: you can easily combine your own narration with the text already uploaded at the beginning of the video.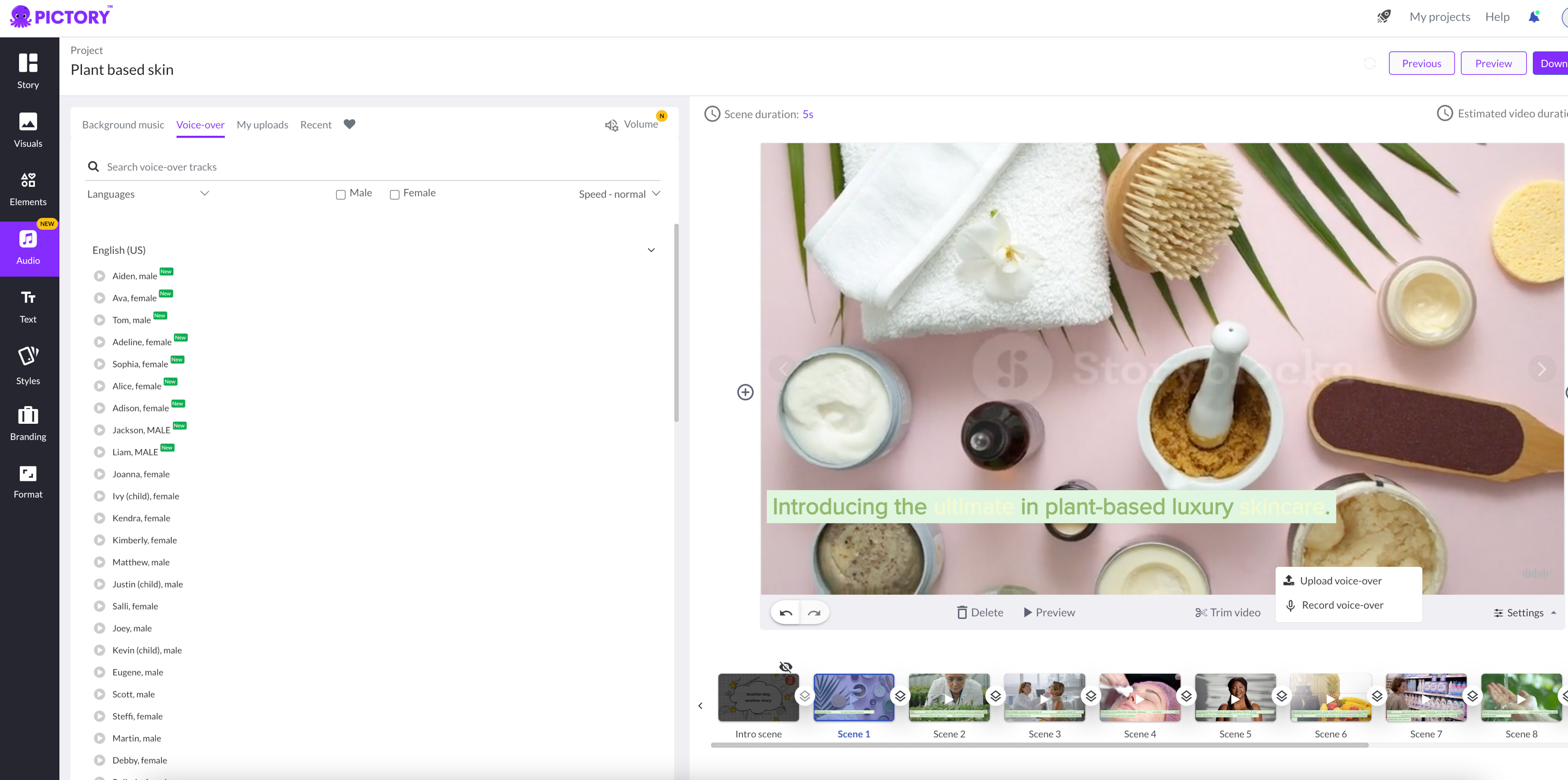 5. Upload an audio file or record your voiceover directly into Pictory.
6. The video editing software will do the rest and ensure the two work seamlessly.
7. Like all other features on this platform, it only takes a few clicks to complete this task.
How to Create Various Types of Videos with Pictory and Storyblocks
What are you looking to create today?
The possibilities to create stunning videos with Pictory and Storyblocks are truly unlimited.
Take a look at these types of videos and how they could support your business:
1. Create professional promo videos
Take it from us – your brand will only ever appear as professional as your least professional video.
Pictory is the ideal tool to help you turn long-form video content into short-form promo videos that turn heads.
Moreover, with this kind of video editing software, you can easily ensure brand consistency, create a unique look for your business, and achieve all that within a few clicks.
Start by uploading your existing content, and let the platform take the hard work out of creating shorter content that drives engagement and conversions.
2. Create explainer videos
Video doesn't always mean content filmed by a camera.
Professional videos have become a favorite with brands and individuals needing to explain complex topics to their audiences.
To create stunning videos, Pictory users only need to upload their script and then select the video tool to take care of captivating explanations.
Many people learn better and find it easier to retain content that has visual elements as opposed to purely word-based explanations.
An explainer video becomes even more powerful when it includes digital and print graphics and audio content.
Pictory video editing software lets you choose from an extensive audio library, allowing you to match music and video style easily.
3. Create cinematic camera movements
Who doesn't love sweeping camera movements showcasing incredible landscapes – or simply illustrating a timeline for your brand?
Combined with Storyblocks footage, Pictory lets you indulge your inner filmmaker and recreate classic cinematic camera movements.
Even if your audience does not consist of dyed-in-the-wool movie buffs, they will appreciate the aesthetics and remember your content over your competitors' videos.
4. Create YouTube videos
YouTube remains one of the most powerful channels for content creators to connect to their audiences.
To create videos for YouTube using Pictory and our massive Storyblocks library, follow the steps above and make sure you select an aspect ratio of 16:9.
This format will make your YouTube videos look like they belong on the platform.
If you need still images, check out Pictory's photo gallery to add even more visual highlights.
Video editing with this type of software is fast, but avoid rushing and take the time to select the best possible visuals for high impact.
5.  Create professional live streams:
Pictory allows creators to showcase their live streams to a wider audience.
Simply upload your live stream to the video editing software, and let Pictory choose the magic moments that will allow new audiences to connect with you and your brand.
Your chosen live-streaming platform doesn't matter as long as you can use a screen recorder to preserve the content while it's being shared.
Consider adding video transitions to your live stream snippets to give your audience a more immersive experience.
Conclusion
Content marketing videos are among the most powerful marketing channels currently available to brands.
These videos are equally impactful for small businesses, including sole traders, as they are for global brands.
Marketing and explainer videos help brands create emotional connections with their audiences that other marketing channels simply can't match.
Traditionally, creating engaging videos was among the most time-consuming activities of marketing teams.
However, video editing software like Pictory is changing that through automation and AI.
Add to that the power of outstanding stock imagery from the massive library of Storyblocks, and you have a perfect recipe for an unforgettable final video that also lends itself to sharing across different platforms.
AI-created videos make easy work of populating social media channels or delivering high-quality explainer content.
Getting started could not be easier thanks to a free trial option.
This is a risk-free opportunity to use a rich palette of the leading tools and resources for video creation.
We're sure that a few hours of using Pictory will be all it takes to convince you of the benefits of these tools.
What are you waiting for? Sign up for a trial today and transform your content marketing approach right now.
And if you haven't check out Part 2 of How to Access Storyblocks Massive Video Library Using Pictory and Enhance Your Visuals with High-Quality Footage