TikTok has taken the world by storm, with over 1 billion monthly active users creating and consuming content daily.
As a business owner, it's essential to tap into this vast pool of potential customers and grow your brand presence on this exciting platform.
But where do you start?
This comprehensive guide on how to set up a TikTok account in 2023 will walk you through the process of setting up your TikTok account, optimizing your profile, creating engaging content, and leveraging trends and hashtags.
Get ready to explore the world of TikTok and unlock new opportunities for your business!
Short Summary
Start your TikTok journey by downloading and setting up an account that reflects you & your brand.
Leverage trends, hashtags, influencers & paid advertising to increase visibility of content for maximum reach.
Consistently create high quality content and engage with followers for a successful presence on the platform!
Getting Started with TikTok
TikTok is a popular social media platform that enables users to create and share short, captivating videos.
It's an excellent way for businesses to reach a wider audience, promote their products, and increase brand awareness.
But to make the most of this platform, you need to set up your account correctly and optimize it for your target audience.
Creating a TikTok account is simple and similar to other social media platforms.
You can download the app from Google Play or the App Store and sign up using an email address or phone number.
Once your account is created, it's crucial to optimize your profile, including your username, bio, and profile picture.
This will ensure that your account stands out and reflects your unique personality and brand identity.
Downloading and Installing the TikTok App
To begin your TikTok journey, head over to the App Store or Google Play Store and search for "TikTok." Download and install the app on your device, which is a quick and straightforward process.
Once you have installed the TikTok app, open it and sign up using your preferred methods, such as an email address, phone number, or even your Facebook or Google account.
After signing up, you can start exploring the TikTok universe and customizing your profile to make it stand out. Remember, a well-crafted profile will help you attract a dedicated TikTok audience.
Creating Your TikTok Account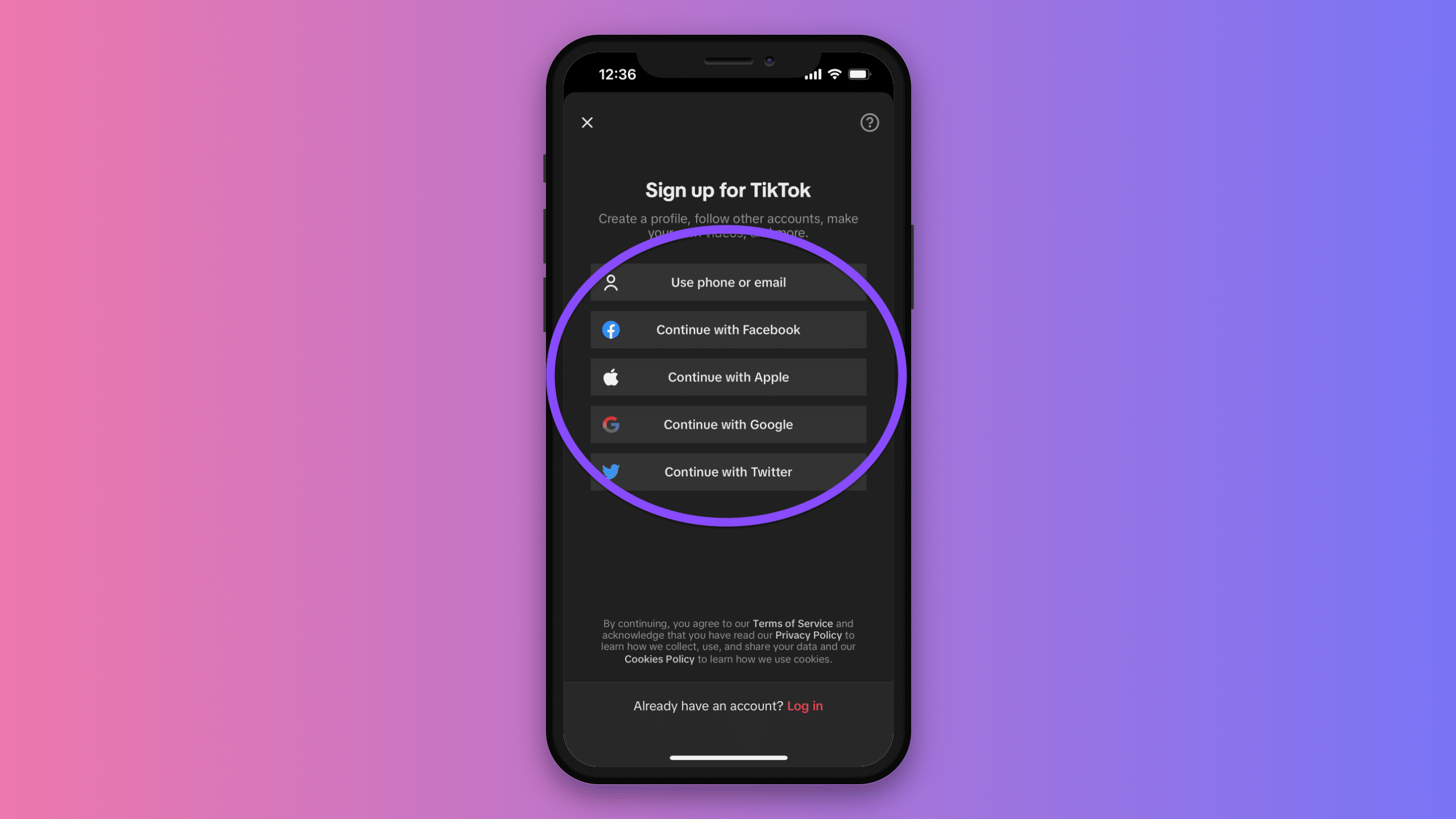 When creating your TikTok account, you can choose from various sign-up methods, such as using an email address, phone number, or even your Facebook or Google account.
This process is simple and similar to signing up for any other social media platform.
Setting a username is an essential step in creating your TikTok account.
Choose a memorable, unique username that accurately reflects who you are and what your brand represents.
Keep it short, simple, and easy to recall. If you have a brand or identity, linking it to your username can help increase brand recognition.
Optimizing Your TikTok Username
To ensure your TikTok username is optimized, consider using the same username across all your social media accounts.
This will help maintain consistency and make it easier for your audience to find and recognize your brand on different platforms.
If you're struggling to come up with a catchy username, you can always use a TikTok name generator to help spark some inspiration.
For more creative TikTok username ideas, you can search Google for lists of unique and memorable usernames.
These lists can serve as a starting point for crafting your perfect TikTok username, ensuring that it is both engaging and representative of your brand or personal identity.
Switching to a TikTok Business Account
Switching to a TikTok Business Account offers numerous benefits, including performance insights, creative tools, and exclusive features that can help grow your business.
By understanding your content's performance and audience demographics, you can tailor your content strategy to appeal to your target audience more effectively.
To switch to a TikTok Business Account, go to your Profile page in the app, click the three dots on the top right corner, navigate to Settings & Privacy, and then click Manage Account.
Select Switch to Business Account, and you're all set!
With your Business Account, you can explore the world of TikTok, experiment with different content types, and discover what works best to engage your audience.
Customizing Your TikTok Profile
Customizing your TikTok profile is crucial for standing out amongst the sea of users on the platform. Start by updating your profile picture by tapping on your profile in the app, going to "Edit Profile," and clicking on "Change Photo."
Select a new picture that represents your brand or personal identity.
Next, update your username and write a captivating bio by going to your profile, tapping on "Edit Profile," and entering your desired username and bio.
Don't forget to link your other social media accounts to your TikTok profile, making it easier for your audience to find and follow you across multiple platforms.
Understanding TikTok Analytics
TikTok Analytics is a powerful feature that provides valuable insights into content performance, account growth, and audience demographics.
By understanding these metrics, you can maximize the impact of your TikTok presence and create content that resonates with your target audience.
To access TikTok Analytics, you'll need to upgrade to a Pro account. Once you've done that, navigate to your profile, tap the three dots, choose "Creator tools," and select "Analytics."
With this wealth of information at your fingertips, you can make data-driven decisions to improve your content strategy and grow your TikTok presence.
Creating Engaging Content for Your Audience
Creating engaging content on TikTok is crucial for building a loyal and engaged audience.
To add value to your content, consider following trends, participating in challenges, and creating a mix of informative and entertaining videos.
Don't forget to use specific hashtags consistently, as this helps TikTok understand your posting schedule and increases the likelihood of your followers seeing your content.
Another essential aspect of creating engaging content is interacting with your followers.
Reply to their comments, answer their questions, like their comments, and even create videos based on their suggestions.
By engaging with your audience, you'll foster a sense of community and encourage users to continue following your account and sharing your content.
Leveraging TikTok Trends and Hashtags
Using TikTok trends and hashtags can significantly boost your content's visibility, as it helps the platform understand your content and show it to relevant audiences.
Staying consistent with your hashtags and creatively incorporating trending sounds into your videos can give your content the extra push it needs to go viral.
When creating content, aim to use between 9-13 hashtags to maximize the reach of your videos.
By leveraging trends, you can give your videos a boost in the TikTok algorithm, which can lead to increased visibility and engagement.
Remember, the more your content aligns with current trends and popular hashtags, the higher the chances are of reaching a wider audience and growing your TikTok presence.
Cross-Promoting Your TikTok Account
Cross-promoting your TikTok account on multiple platforms is an excellent way to gain more exposure and increase the chances of your target audience seeing your videos.
By sharing your content on platforms like Instagram, Facebook, and Twitter, you can introduce your TikTok account to new audiences who may not have discovered it otherwise.
To effectively cross-promote your content, consider sharing your TikTok videos on Instagram Stories, linking your TikTok account to your Instagram bio, and posting your videos on Facebook and Twitter.
You can also explore options like influencer marketing and paid advertising to increase the visibility of your TikTok account and reach an even larger audience.
Tips for Growing Your TikTok Presence
Growing your TikTok presence requires consistency, a well-thought-out content strategy, and a clear understanding of your niche.
By creating high-quality content that appeals to your target audience and consistently posting, you'll gradually build a loyal following and increase your impact on the platform.
Another crucial aspect of growing your TikTok presence is capturing the viewer's attention quickly.
Make the first few seconds of your videos engaging and intriguing to encourage users to watch until the end, increasing your chances of being promoted by TikTok's algorithm.
Engage with your followers by responding to their comments and creating content based on their interests, keeping them excited and eager for more.
Summary
In conclusion, setting up and growing your TikTok account is an exciting and rewarding journey that can unlock new opportunities for your business.
By following the steps outlined in this guide, from creating your account to leveraging trends and hashtags, you'll be well on your way to establishing a strong presence on TikTok.
So go ahead, dive into the world of TikTok, and unleash your creativity to captivate your audience and grow your brand like never before!
Frequently Asked Questions
How do I create a TikTok account for my child?
Encourage your child to create a TikTok account by enabling Family Pairing.
Simply open the app and head to the Settings and Privacy tab.
From there, you can tap on Family Pairing and select 'Parent or Teen."
Follow the steps in the app to link your accounts and get started!
What years are eligible for TikTok?
TikTok requires users to be at least 13 years old to use its features.
With a motivating tone, you can encourage your teen to join the millions of people on TikTok and have fun exploring its features!
Check out our complete guide on How To Go Viral On TikTok With AI to give your account a boost!
And sign up for a FREE Pictory account today to start creating engaging video content in minutes!