Are you interested in creating engaging video content?
Maybe you want to produce quality videos that can supercharge your business.
Or maybe you want stunning videos that will attract viewers and subscribers to your YouTube channel?
Video content and marketing have never been more popular.
It's a fun, engaging, and highly shareable medium. People spend around 17 hours per week watching videos and 51% of them are likely to share videos with their friends.
Engaging videos are perfect for entertainment, education, and gathering information.
Video is the best media format for content creators and social media personalities. Posts with videos consistently deliver the highest ROI on social media.
And posts with videos get 48% more views than ones without 96% of people watch explainer videos to learn more about products or services and 89% of people have been convinced to buy after watching a video.
That even applies to the B2B world. A solid 70% of B2B buyers and researchers watch videos on their way to a purchase.
That's probably why 91% of all businesses are using video marketing in 2023.
AI Video Editing
Pictory's AI video generator can create videos from scripts, articles, blog posts, visuals, or other videos.
It uses a library with over 3 million video clips and images along with a 15,000-track music library.
Its AI video editing is used to clean up videos, insert logos, add intros and outros, create highlight reels, and repurpose longer video footage into video shorts.
Plus, Pictory can automatically transcribe, caption, and even summarize videos.
Want narration? You can narrate the videos yourself, let an AI voice narrate, or use text.
Pictory AI might be powerful but it's super easy to use.
You can create professional videos in minutes and with just a few clicks!
In this post, we're going to cover how to get started with this video editing software and create high-quality videos.
What is AI Video Generation?
AI video generation uses artificial intelligence to create video content.
You can create videos from scratch or use AI to edit existing video footage into new video content.
Artificial intelligence is all about speed and leveraging a machine's resources to do creative and cognitive functions.
AI applications work more quickly, efficiently, and accurately than people do. And AI video creation is no different.
AI video editing is fast, slick, and polished. This isn't like older video editing software used by creatives.
An AI video generator takes care of all the hard parts. Users don't need to understand anything about filmography or video editing to turn out professional-looking videos.
All they have to do is input some data and make some styling selections.
Pictory is an AI video creation platform that lets you generate and edit videos from text, audio, images, or video footage.
Getting Started with Pictory
Begin by signing up for our AI video creator or logging into your Pictory account. You can try Pictory without entering a credit card, so go ahead and grab a AI video creator free trial if you don't have an account yet.
Signing up or logging in brings you to the AI video creation platform. It's clean, simple, and intuitive to use.
There's a menu at the top showing "My Projects", "Help", notifications, and an account menu.
Use this menu to navigate to existing projects, find resources, and change your profile settings.
You can get back to the main dashboard by clicking the Pictory logo.
The main dashboard shows Pictory's four video creation methods: script to video, article to video, edit videos using text, or visuals to video.
Click any one of these to generate a new video.
Script to Video Generation
Script to Video lets you generate videos from the text you enter.
You can copy-and-paste some text in or type right into Pictory.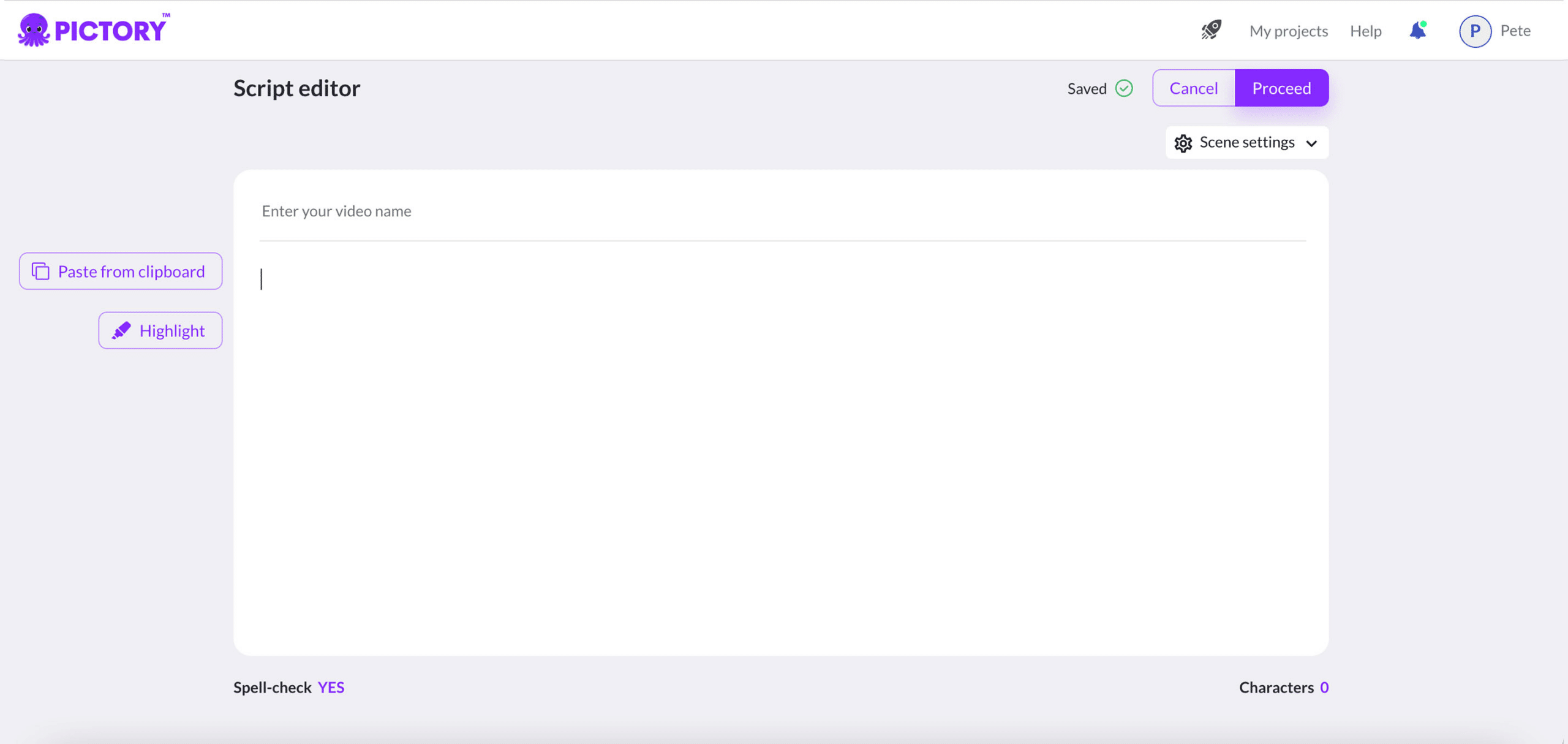 You can choose the scene settings here, such as to auto-highlighting keywords, automatically selecting visuals, and where to create new scenes.
Pictory lets you create new scenes on sentence breaks, line breaks, or both.
Pick the setting you prefer.
Once you enter the text and select the scene settings, click "Proceed" to continue.
Pictory then lets you select a template to style the video.
There are multiple templates available, and you can create your own. After you select the template, it's time to choose an aspect ratio: 16:9, 9:16, or 1:1.
Pictory will create a video storyboard once the text is entered and a template is selected.
Pictory automatically styles videos, but you can also manually edit videos scene-by-scene.
Article To Video
Article to Video lets you create videos from published blog posts, articles, press releases, or other text-based HTML pages. Simply copy and paste the article's URL into Pictory.
Pictory's AI will then extract key messages and turn the summary into a series of scenes.
After that, you can pick a template to style and brand the video, along with the screen settings you want.
Pictory will then create a storyboard.
Once the storyboard is created, it's time to add visuals, elements, and styling. Pictory's AI can handle this for you, or you can do it yourself.
Edit Videos Using Text
The Edit Videos Using Text option is used to edit an existing video.
You can add the video from a YouTube link or an audio/video file upload.
Pictory will ask for the number of speakers in the video. This helps Pictory AI make an accurate transcription and produce a high-quality video.
Once you enter the video and set the number of speakers, Pictory AI will generate a transcription and scene-by-scene storyboard.
You can now edit and style the video.
Visuals to Video
Visuals to Video lets you generate videos from images and video clips.
So if you want to make a product or art showcase, or edit together clips recorded on your mobile phone, this feature is perfect. 
Add files from your computer, then arrange them into the sequence you'd like.
This creates a storyboard.
Click proceed once you've uploaded all the visual footage you want to be included in the video.
Pictory will take you to the templates page.
Select a template to style the video, then select an aspect ratio, and then select continue.
Pictory will generate a video storyboard.
You can style the video a little more here and can also add more files.
How to Create Videos Using Pictory's AI
Pictory generates videos from text, images, audio, or video footage.
Once you enter the content, Pictory will prompt you to select a template and aspect ratio.
Templates are pre-selected style settings that are great for quick video creation.
Available aspect ratios are 16:9, 9:16, or 1:1.
16:9 is perfect for horizontal (sideways) phone viewing.
9:16 is ideal for vertical or upright phone viewing.
1:1 ratios are great for computer monitors.
Pictory will create a video storyboard once the content is in and a template is selected.
Storyboards are scene-by-scene video layouts.
Videos can be styled, branded, and edited from the storyboard.
Pictory AI Video Editing
Pictory has lots of AI video editing features that make it easy to customize your videos.
The video editing options include visuals, elements, audio, text, styles, branding, and format.
Visuals: add more images, video clips, or background pictures into the storyboard from Pictory's library or your own files.
Elements: add stickers, gifs, or emojis into a storyboard scene.
Audio: add background music or voice-overs
Text: add text to a scene, choosing from headings, subheadings, or body text.
Styles: change the storyboard style from Pictory's templates, your own templates, or a style element library.
Branding: create the intro scene and outro scene, and add a scene logo
Format: change the video's aspect ratio and resolution
These are advanced AI video editing tools that can be used to quickly create professional-looking videos.
Pictory Video Examples
Promo Video
Jurgen Proschinger Triangle Forces Video.
/
Promo videos are done to promote services, products, or brands.
Jurgen Proschinger's Triangle Forces video introduces his brand and its services.
It gives a general introduction to what the brand does and how clients benefit.
The video tells what the brand brings to the table and where the company's expertise lies.
It features the brand's logo on the top right, with background images, stock footage, and text captions.
This promo video begins and ends with professional video intros and outros, further lending to its quality.
YouTube Video
Anza Khan, Shrinkflation, Hidden Inflation Video.
/
This YouTube video is narrated by an AI voice and has captions on the screen.
It's made interesting by using different video footage, light background music, and graphic animations.
Its captions are clear and easy to read, thanks to a white backdrop and highlighted text sections.
Training Video
Anthony Garcia, Writing Teacher, Tips for Avoiding Redundancy in Writing.
/
This training video features real-person narration, video footage, animations, and on-screen captions.
A variety of carefully selected video clips add drama to the narration and create a more engaging video.
Creating Engaging Video Content with Pictory
We can never take a viewer's attention for granted. Every single video you create must be as intriguing, engaging, and captivating as possible.
Fortunately, Pictory's AI makes this quick and easy. Here are a few tips to use when creating professional videos.
Creating Engaging Video Content
Use captions with highlighted text to keep the viewer's interest
Change up the background footage and align it with the narrative
Create dynamic intros and outros
Enhancing Audience Engagement
Create multiple short videos from blogs and scatter them throughout the article
Create video responses to trending articles, blogs, and content
Create short, easily digested explainer videos
Techniques for Creating Personalized Content and Ads with Pictory AI
Feature your logo throughout the video
Add in a personalized background image or scene
Style the video in your brand's colors
Using Pictory for Faceless YouTube Videos
Faceless YouTube videos are ones that don't show your face.
It can have text captions, narration, or just show incredible footage.
A faceless video can contain images and footage of people, but it won't show the video creator or narrator's face.
This video style is trending because Faceless YouTube videos allow people to make content while remaining anonymous, maintaining privacy, and staying off-camera.
Faceless YouTube videos also focus on the subject matter and video content – not on who's in it.
Faceless videos can be great ways to share information, recap blogs, and do some business promotion.
How To Use Pictory to Create Engaging Faceless YouTube Videos
A faceless YouTube video relies on narration, text captions, and images.
Pictory lets you create beautifully designed captions and onscreen text.
Pictory's AI video editing features make faceless YouTube videos more interesting and engaging.
You can mix up the visuals, add stickers and reaction emojis, insert funny gifs, and give any text captions visual interest.
Add background music to give more emotional appeal.
This can help viewers better connect with what's presented without having a human face to look at.
A Pictory Faceless YouTube Video Showcase
Content creators are already using Pictory AI to create successful faceless YouTube videos.
Here's what three of those look like.
Nick Leffler, Mobile Friendly Website Check Video.
Paula Donnan Tips If You Are Unemployed Video.
John Tattersall, QA Flooring Solutions Video
Final Thoughts
In conclusion, AI-powered video creation offers a game-changing solution for creating professional videos in minutes. 
By eliminating the need for complex software or hiring professionals, AI video production makes it accessible and cost-effective for individuals and businesses.
In today's digital world, where video content reigns supreme, Pictory enables users to unleash their creativity, capture attention, and effectively convey messages through compelling videos.
Have you played around with this video editing software yet?
If not, you should know that it's totally free to sign up and get started.
There's a full-feature trial with no time-based limits and no credit card required.
You can create professional-looking videos in minutes. Try Pictorys FREE AI video creator out now!