I won't judge you for wanting to go viral on TikTok.
Knowing you've stopped that doom scroll and people enjoy your content is a high worth chasing.
It's also an increasingly valuable way to get your content seen by your target audience, what with the very successful AI algorithm and 'sides' of TikTok.
Now, with a little help from artificial intelligence, going viral on TikTok has never been easier.
AI tools and technology can help you optimize your video content, which will improve its chance of being viewed and shared by TikTok users.
So if you're a TikTok video creator, you can't afford to miss out on this full tutorial on how to create a TikTok viral, AI-generated video in minutes!
TL;DR
Use Linktree or similar services to add links to your TikTok bio, allowing easy access to all your platforms.
Create engaging posts with attention-grabbing titles, concise copy, and a call to action. Tag relevant accounts for increased reach.
Utilize AI tools like ChatGPT for quick content creation, especially on trending topics.
Use Pictory's Script to Video feature to turn your content into engaging videos, and personalize them with branding, music, and emojis. Or, create highlights from existing content with the Edit Videos Using text feature. 
Regularly create and post content to maintain and grow your audience.
How To Set Up A TikTok Account
As with all social media platforms, the first thing you'll need to do if you want to post on the platform is set up an account.
Download the TikTok app from your device's app store or sign up via desktop.

Create an account using either your phone number or email address.

Upload a profile picture and create a unique username.

Add a brief bio that introduces yourself and what kind of content you will be creating.

Link other social media accounts to your profile so that people can find you on multiple platforms.

Familiarize yourself with the tools and features of the app before starting to create videos.

Start interacting with other users by liking, commenting, and sharing their content.
How To Add Links To My TikTok Bio
You will need to add a Linktree or similar linking service if you want one source that can direct users to all your platforms.
We will be using Linktree for this tutorial but here are some alternatives:
How To Create A Linktree
Linktree is a free tool and a great way to showcase all of your platforms and it helps connect viewers directly to your best content.
To create a Linktree, just head over to the 'create account' section and sign up.
Once this is done you can add all your links to your Linktree profile and hit the share button to grab your personalised Linktree link.
TikTok Post Creation – Start with the Copy
Creating a post that will engage audiences on TikTok starts with the right titles and copy.
It is essential to create posts that will engage your audience and attract followers.
The titles and copy you choose should stand out and be relevant to your content.
For instance, if you're posting a cooking video, then use a title like "Cooking a Delicious Meal with [Your Name]".
When creating copy for your post be creative and keep it short so it is in view and on point.
End your copy with a call to action asking viewers to leave comments or share your video.
It's a simple ending but it will increase the number of follows and likes.
An easy way to boost engagement is by tagging other people in your posts.
Search for accounts that repost similar content to yours and tag them in it to add organic reach.
Send them a like, follow, and comment on their posts.
Engaging this way will help you build a network of collaborators to help boost your content.
How To Create Content Quickly Using AI
So, your TikTok is now set up and ready to post content.
You need to create TikTok content for your channel and the more content the better.
TikTok absolutely loves content and the more frequently you post the more it will reward you.
In this next section, we will show you how to create 5 TikTok videos in 30 minutes!
Creating Your TikTok Content
Firstly, you need the content.
If you have a blog, article, or video you want to use then have it to hand.
If you want to create a new piece of content or reactive content quickly then you can use ChatGPT or a similar service.
Alternatively, you can write a quick script yourself.
AI writers are easy to use if you want to create video posts quickly and get views on your channel overnight.
Trending subjects can be great to jump on board with and if create content fast then you can really capture these trends.
Let's take the viral moment of Chris Rock being slapped by Will Smith.
Everyone was posting the clip and it quickly started trending, which is a perfect opportunity to add some content on the subject.
We could, for example, ask ChatGPT to write an article on how Will Smith and Chris Rock's careers both got to that point, capitalizing on the trend as it evolves.
But, as we are talking about TikTok let's use "Top Ten Tips For Creating TikTok Videos" as our subject.
Here is the ai-generated content ChatGPT created in around 60 seconds.
Creating Your TikTok Pillar Video
Pictory has four options and as we mentioned earlier it can create content from all formats including script to video, article to video, edit videos using text, and visuals to video, all of which are great for creating and repurposing content.
We are going to use the Script to Video feature, and enter the video title "Top Ten TikTok Tips" and copy the text into the script section.
Pick your favorite template and let the AI do its magic.
Pictory's AI will automatically generate images to fit your keywords, but you can always edit these in the storyboard of the video editor to make sure you choose the right visuals.
Once your video is created you can personalize your video with a logo, font, colors, gifs, and emojis.
Branding Your TikTok Video
Head over to the branding section on the left and menu and select scene.
You can now upload your logo and it will apply it automatically to all scenes in the video.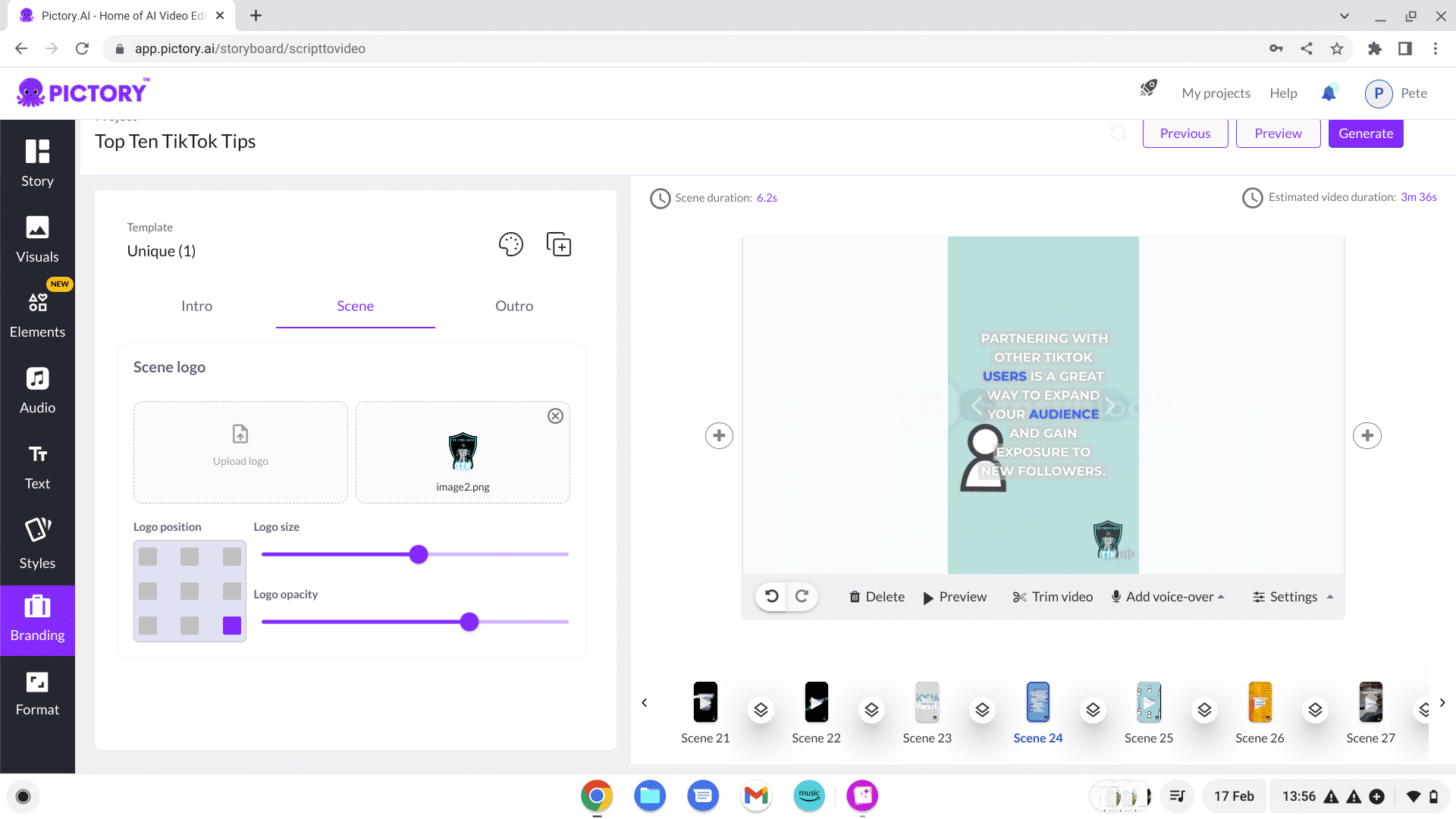 If you want to brand your text you can select it on the scene and use the color picker to choose your color.
We are using blue and white to be on brand for our video, using it throughout the video by hitting the apply to all scenes.
Next, we want to pick some relevant music, and "Get it Good" is a perfect choice for this video.
TikTok plays sound automatically so an AI voiceover can be quickly added and we are ready to preview.
You can swap in and out videos and add gifs and emojis of which we have added a dog emoji to the start of the video to catch viewers' attention.
The video will be split into 5 sections when we upload it to TikTok so you can try adding different visuals through the videos and see which performs best once they are live!
Once you're happy with your video you can generate and download it ready to re-upload onto TikTok.
Uploading Your TikTok Videos
Open TikTok in your browser and click the upload button in the top right-hand corner.
Add your caption (title of your video) and start the upload.
Don't Forget The Hashtags
Don't forget to include relevant hashtags in your posts.
While your video is uploading it gives you time to add the final touches to your video.
Hashtags are a great way to make sure that more people see your videos.
Think of hashtags that are related to your content, such as #cookingtips, #foodstagram, or #tiktokcooking.
Additionally, you can use hashtag generator tools to help generate ideas for hashtags.
With the right titles, copy, tags, and hashtags, you can create engaging TikTok posts that will help you get more followers and even go viral!
Pictory Tip: Use a FREE program such as SISTRIX which has a free online hashtag generator to get you started.
Create 5 Viral Shorts from One Video
Your caption is done, and your hashtags are primed and ready but before we post live we are going to split this one video into 5 videos.
Shorts have to be 15 secs long so this video length is perfect for 5 shorts.
Each video has a tip title so we divide the video every two to three tips to create our shorts.
Hit the save button and you are ready to go!
Using the Edit Videos Using Text feature on Pictory is a fantastic way to create quick video highlights from any long-form content, either letting AI choose the clips to highlight or picking them yourself.
It makes Pictory a great option for a TikTok video editor.
Where To Share My TikTok Videos?
Once you've created your videos and edited them using TikTok's various tools, it's time to share them with the world.
There are many different platforms you can use to share your video creations from TikTok.
To start, if you have an Instagram account you can share your TikTok videos with it.
This is a great way to reach a larger audience by tapping into people who are already interested in similar content.
It's also important to engage with your audience on TikTok by responding to comments and messages and commenting on other videos.
You can also share your TikTok videos on other platforms like Facebook, Twitter, and YouTube.
This will help increase your reach even further and build relationships with people interested in similar content.
Additionally, you can link out to your website or blog from your TikTok account so people can find out more about you.
No matter which platform you choose, remember to always post high-quality content that engages your audience and encourages them to follow and interact with you.
This is the best way to ensure your content reaches the widest possible audience and goes viral.
Interact With Other TikTok Users
Another way to promote yourself on TikTok is by interacting with other users.
Commenting on their posts and liking their videos can help boost visibility, as well as get other users interested in what you have to offer.
By following these simple steps you can easily add links to your TikTok bio and start promoting yourself and your content.
Don't forget to also share your content on other video platforms like YouTube, Instagram, and Facebook to maximize your reach.
With a little effort and dedication, you'll be able to create a successful presence on TikTok in no time!
The Results
Our TikTok channel "Tips, Tricks & hacks" was an overnight success! In a 24-hour period, our brand-new channel had amassed 790 views across all 5 videos.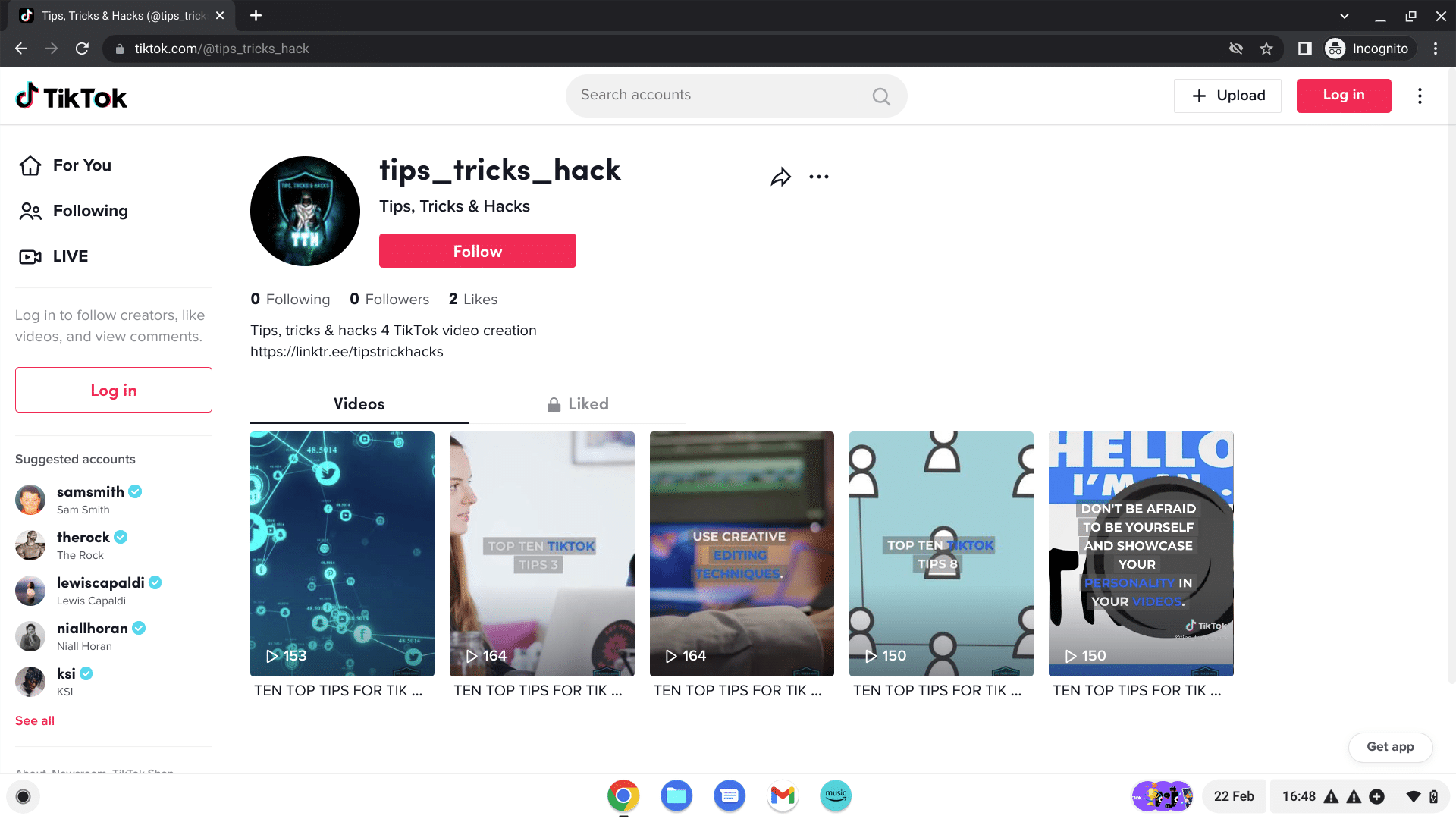 This is all organic reach, on a brand-new channel! So go check out Tips, Tricks & Hacks.
If you enjoyed this tutorial and want to find out why video marketing is important here's another video What Is Video Marketing And Why Is It Important For Your Business? to hone your marketing skills.
Create viral tiktok videos with pictory!
Sign up, or upgrade your Pictory account today to gain instant access to our full range of video editing tools, perfect for making your next AI-powered TikTok!
With Pictory you can turn any content into an engaging video in minutes; think about reusing that blog post you wrote that performed really well.
Now, with one or more exciting videos, you can quickly reach a massive audience with your content.
Creating content has never been so simple!